Last week we rebooted our Mordheim Campaing in Joensuu (Finland), and therefore I decided to start playing a new warband. I considered to play Beastman or Undead, but finally I thought about playing with Chaos because of the hype around the The End of Times – Warhammer Campaign, where Chaos is going to destroy the Warhammer world. I wanted to contribute with my Nurgle's warband! So, my new warband is Carnival of Chaos.
Once more I'm going to use original models from GW. I love the «carnival» look they have. Getting these guys was a bit difficult (and so expensive), but I think they're worth it. The miniatures are not the best ones in the market nowadays, but they have something special. If you are a collector, you will probably understand me. Fortunately I could buy the whole original warband, plus two extra henchmen (I have not prepared them yet). So I already have the core for my warband, but probably I will need extra models in the future. Indeed, the original warband doesn't include a second Tainteed one and therefore, I need to find an alternative. I also have five nurglings. I don't know why, but I love these little guys. Perhaps because their malicious faces! The Carnival of Chaos models are specially nice. One has a bagpipe!
In this case I discarded preparing my own bases because I don't have enough time. Thus I bought resin bases from Micro Artsimulating a wood floor. They are really nice and cheap! I bought two 20x20mm blisters and another one of 25x25mm for the Brutes and Master. I think I will have enough bases if I want to increase the warband in the future. The bases are different enough to get very distinct vignettes for my miniatures. And there are enough flat bases to put the nurglings with their big metal base. To properly set the other models I used metal rods between the feet and the base. I don't know when I could paint them, but I want to use a bitonal scheme: red and yellow, the original one.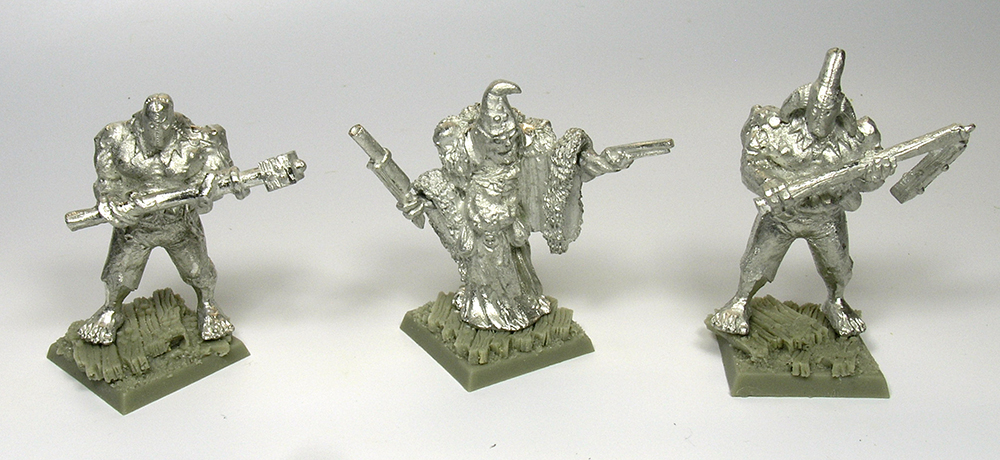 About my Warband, I decided to spend some crowns in Nurgle's blessings. You can check the Carnival of Chaos rules here. The Tainted ones can only pick these blessings at the beginning of the Campaign, so I think it's a good idea to invest some money in them. One of them has Bloated Foulness (+1 W, +1T, -1M) and the other one has Nurgle's rot (if the Tainted One makes a successful roll to hit of 6 this will result in the target model contracting the Rot…). The rot is bloody expensive (50 crowns) but it's so fun. Indeed, my Master learnt the homonymous spell in Nurgle Rituals. So I will spread the Nurgle's word!!!! Because the great cost of these blessings I couldn't recruit any demon for my warband (Nurglings or Plague Bearers), but I will do it after playing the first game. In addition, my poor Brethrens only have the free dagger. Because the first games are not very crucial and we only need to collect as much money as we can without heavy loses, I think I can easily afford them with my heroes until I can recruit some demons and fortify my Brethrens. You can check my list in the following link. Have you ever play with or against Carnival of Chaos? Feel free to comment and share your opinions!