Although I don't play americans, every now and then I paint some of his tanks or infantry bases. Now it's the turn of these little tank killers.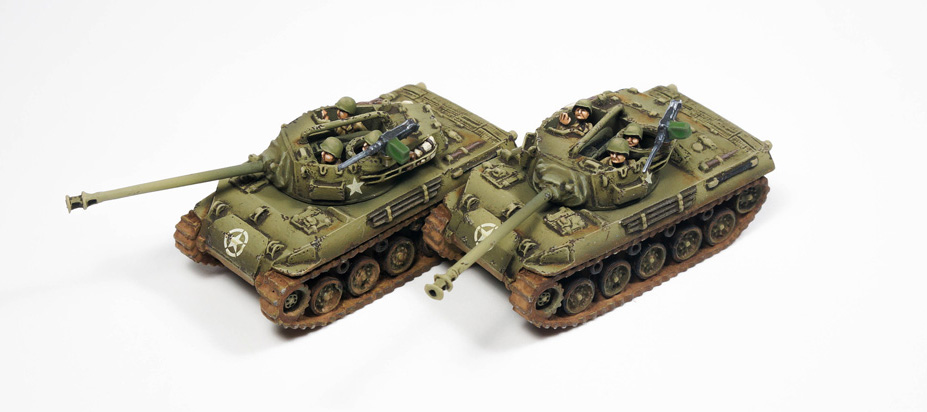 These Hellcats were painted a few months ago (January), but some guys (hi, Conscript Challenge friends!) asked for that green tone color. So, this will be a very short post, only the finished tanks and their color recipe.
Prime with AK175 Grey Primer.
Base coat with AK135 Olive Drab Light Base.
Shadow with AK133 Olive Drab Dark Base.
Light with AK137 Olive Drab Shine.
Gloss Varnish with brush only in the decals place.
Decals.
Couple of hours for all the paint and decals to dry…
At this point, the tank will look 'brownish'. The AK Olive Drab set is, obviously, not intended for such small scale vehicles, so the colors will not look green enough. To correct this I applied a filter:
Filter with paint. Yes, with paint, not with enamels or oils. And applied with airbrush. The color is AK031 Russian 4BO Base. Of course, I needed to thin the paint sooooo much, like 1:10 or more (I did it at a guess). This will enhance the green tones without masking all the previous modulation, that's why we called it 'filter'.
After the filter, I varnished all the vehicle with satin varnish.
Washes.
Chipping.
Oxide/Streaks
Matt Varnish.
Pigments.
And that's all. As you can see, the trick is the filter with russian green acrylic paint.
Hope you find it useful and don't forget to improvise to obtain that perfect tone for your vehicles! 😉